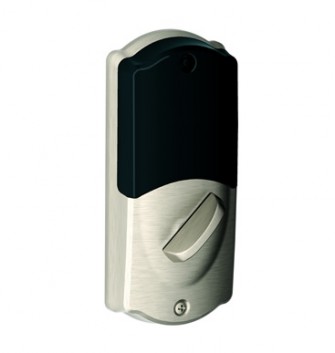 Touchscreen deadbolt is available in Satin Nickel or Aged Bronze finish. Motorized bolt automatically locks or unlocks when code is entered. Anti-pick shield protects against tampering. Built-in alarm technology senses vibration and sends you alerts to any activity. Receive text or email alerts when codes are used.
What You Should Know
Lock or unlock remotely via Nexia app. Set Nexia to conveniently turn-on lights, adjust thermostat, camera to record when guest enter their access code. Holds up to 30 unique access codes and can be scheduled to only be active certain days or specific times. 1 year battery life. Also available, Lower Part of Schlage® Handle set with interior knob.
More Information